Explore your way through crypto with Crypto Categories Unveiled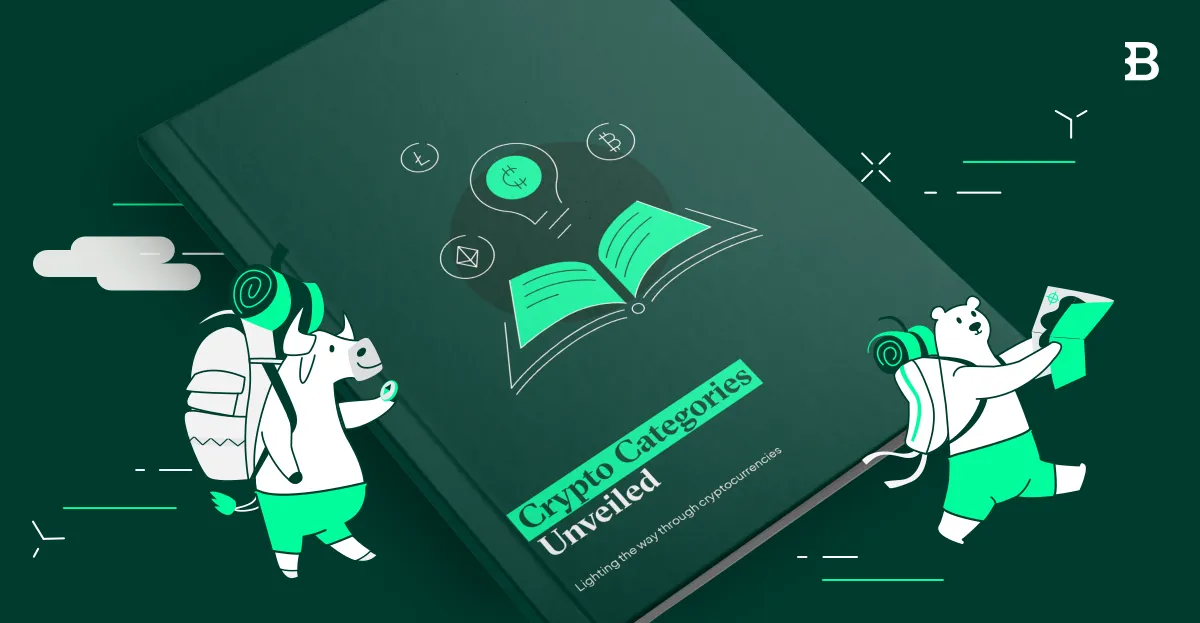 In a world teeming with over 20,000 cryptocurrencies, it's easy to feel overwhelmed and lost. Fear not, our crypto explorers, the Bull and the Bear, are on a mission to simplify this intricate ecosystem for you. We have distilled the entire realm into 14 distinct categories, enabling you to grasp the diverse use cases and revolutionary transformations that cryptocurrencies are bringing to finance, entertainment, and beyond.
And we put it all neatly inside a handy book called Crypto Categories Unveiled: Finding Your Way Through Cryptocurrencies. To simplify things further, we've created an e-book available on Amazon Kindle, and also as a downloadable PDF.
Download Crypto Categories Unveiled
Join Bitstamp's crypto explorers making the complex word simple
Follow Bitstamp's crypto explorers on a journey through the crypto landscape, discovering and making sense of crypto as you go. Our guide's strength lies in its practicality while you explore the categories, discover their unique characteristics, and gain insights into how cryptocurrencies are reshaping our lives. Start discovering and see all the puzzle pieces fall into place.
Understanding the foundations
Your journey begins with a clear and concise introduction to the fundamentals. Get ready to grasp the essence of cryptocurrencies and blockchain technology, demystifying the concepts that underpin this revolutionary space. You'll get to know the difference between coins and tokens—a vital skill in the crypto world. Understanding these basics isn't just useful – it's essential for anyone looking to thrive in crypto.
Ready to test your crypto knowledge before you embark on your journey? Find our quick quiz on the Crypto Categories Unveiled website.
Bitcoin and beyond
Learn about the creation of Bitcoin and Ethereum, the trailblazers that both ignited and propelled the crypto revolution. But the story doesn't stop there. Discover the trail of crypto that followed, each bringing its unique twist to the table. From Ethereum's revolutionary smart contracts to the rise of decentralized applications (dapps), you'll uncover the forces that have shaped the crypto landscape.
Categorizing crypto
The heart of the book lies in its exploration of various crypto categories. Imagine having a roadmap that helps you categorize and make sense of the vast array of digital assets out there. From layer 1 networks to payment solutions, stablecoins to the metaverse, and crypto in gaming—we'll help you make sense of it all. Whether you're intrigued by the allure of DeFi, fascinated by the metaverse, or captivated by the possibilities of NFTs, this handy guide is your launchpad towards finding crypto that resonates with you.
Empowering your crypto journey
This handy guide is your tool in the dynamic world of cryptocurrencies. By understanding crypto categories, you're equipped to grasp use cases better, spot opportunities, and comprehend the distinct functions various digital assets serve.
Why wait? Dive into the world of crypto categories.
Download Crypto Categories Unveiled as a PDF or as an e-book:
Your journey starts here.
---
Bitstamp is licensed to engage in virtual currency business activity by the New York State Department of Financial Services. Licensed as a Money Transmitter by the New York State Department of Financial Services