Crypto Pulse Q2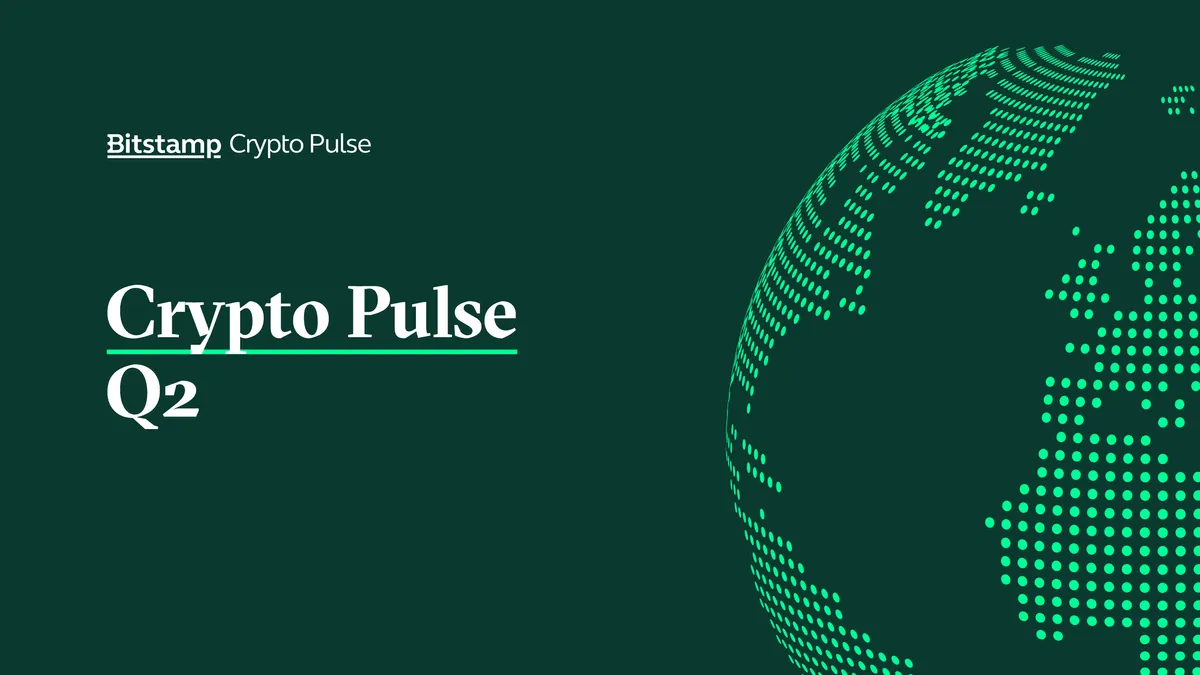 The results are in– Bitstamp's Crypto Pulse reveals continued interest in crypto
The results of the largest worldwide survey of investor attitudes on crypto in Q2 are in. While the sentiment towards crypto remains largely positive through the current crypto winter, the downtrend has certainly made both retail and institutional investors more prudent in their plans for directing their assets into crypto. However, despite the increased caution, it's undeniable that many investors are using this winter to build solid ground for crypto's next bull run. Moreover, the majority of responses indicate that more regulation and education would be welcomed by both retail and institutional participants.
The Crypto Pulse survey features key insights into crypto, captured by comprehensive primary research commissioned by Bitstamp. The survey, conducted by an independent research company between May 19 and June 6, 2022, involved over 28,000 retail and institutional investors in 23 countries. It inquired about their knowledge, trust, plans and attitudes towards crypto. In April, we released the findings of the Q1 Crypto Pulse survey.
We firmly believe that blockchain technology is one of the most notable innovations of our time and that it will undoubtedly redefine finance as we know it. As we recognize various barriers to wider adoption, we recognize the importance of quantifying the sentiment. The bulls, the bears, trust, and skepticism - it's all a question of numbers. The findings will help us understand not just what is working for investors but allow us to learn how we can solve their concerns and maximize their chances of success in the ecosystem.
Read on to find out more about Crypto Pulse's key findings per region.
UK and Europe
Our independent researchers approached over 10,000 retail and 2000 institutional respondents in the UK, Italy, Germany, Spain, The Netherlands and France. Overall, they found that more than half of retail investors now report being invested in crypto, a 7-point increase vs Q1.
Once again, consumer education is seen as one of the biggest issues holding retail investors back from joining the market – with one in five (21%) of those not currently invested in crypto in Europe saying they would like to, but did not know enough to get started. This figure was highest in the UK where it has increased from 25% in Q1 to 31% in Q2.
Despite the recent crypto winter, the polling provided evidence that confidence in the future of the sector remained high with a minor impact on consumer trust. The proportion of retail investors that rated crypto as a trustworthy investment fell from 54% in April to 52% though this varied between countries.
The survey also showed that the share of retail investors, who want more regulation of the crypto markets, increased from 23% to 26%. The biggest increase among the countries was Spain, where in Q2 34% of respondents said there was not enough regulation in the industry, compared with 28% in Q1. To the contrary, institutional investors in Europe felt regulation was showing signs of progress, with only 23% saying there was not enough regulation in the industry compared to 31% in Q1.
Nearly a third (31%) of over 2,000 institutional decision makers said their firms planned to increase their investments in crypto in Q2 compared to 28% in Q1. The largest increase among the individual countries came from the UK, where 35% said they planned to increase investments compared to 28% in Q1.
Attitudes towards adoption of crypto as a mainstream payment method also continued to grow with 47% of consumers in the European markets reporting they would feel comfortable paying for everyday items like groceries in crypto, compared to 40% in Q1. The biggest rise in this metric came in Spain, where nearly two thirds (61%) said they would feel comfortable paying for groceries with crypto compared to just 49% in April.
The Americas
Across most of the Americas, retail respondents continued to show more trust in cryptocurrencies in Q2. In fact, Canada was the only country that saw trust in cryptocurrency dip slightly below 50% in Q2 vs. Q1 among retail respondents. All other countries in the Americas saw trust in cryptocurrency remain high, at or above 68% with countries such as Brazil at 77%, Chile at 69%, and Mexico at 70%.
The US showed the single biggest increase in trust, from 61% in Q1 to 73% in Q2, along with a further 44% increase in retail respondents who said they currently invest in cryptocurrency, from 42% to 61% quarter over quarter.
Despite these encouraging figures, there's still a lot of room for further education about cryptocurrencies across the Americas. The data found that across the US and Canada combined, 44% of retail respondents felt they don't know enough to get started with crypto. These figures were only slightly lower for Latin American respondents, ranging from 37% to 44% in Q2.
It's clear that the more people understand crypto, the more they trust it
In the US and Canada, retail respondents who were somewhat knowledgeable of crypto were five times more likely to find crypto trustworthy than those who didn't know much about it. Those who described themselves as very knowledgeable were eight times more likely to find it trustworthy.
Institutional investors also continued to demonstrate interest in crypto: 78% of institutional investors polled in Mexico are actively recommending crypto to their clients, followed by Brazil at 72%, and Argentina at 71%. In the US, 69% of institutions are actively recommending crypto.
Asia-Pacific
The researchers polled participants from Singapore, Australia, Hong Kong, Japan and India. While the majority of institutional investors, at 66%, would continue to actively recommend crypto as an investment, there was an increase in those who would cautiously recommend crypto to their clients – from 14% in Q1 to 18% in Q2.
But they are also taking the crypto winter as an opportunity to build for the future. In Singapore, when asked about their future plans for crypto, more than a third of institutions spoke in favor of increasing investments (35%), expanding their knowledge base for their clients (33%), and investing in increasing their crypto offerings (34%).
In Australia, institutional investors showcase a more active approach. 38% of them said they intend to increase their crypto investments, marking a distinctive rise from 27% in Q1. The percentage of investors who said they would make crypto a primary source of investment almost doubled — from 14% in Q1 to 25% in Q2. 
 
Institutional investors in Hong Kong are adopting a more careful wait-and-see approach and showed little to no change in their strategies from Q1. They remain constant in their plans to expand their knowledge base for their clients at 29%, add more crypto (27%), diversify (33%) crypto investments, and make crypto a primary source of investment (19%).
Crypto around the globe
Despite the downward market trend, the results show global trust in crypto remains unshakable. The percentage of retail investors around the world who find crypto trustworthy has dipped slightly - from 67% in Q1 to 65% in Q2. There was a similar decline among institutional investors: 67% still deem crypto trustworthy vs. 70% in Q1. Considering that in Q1 we were entering a crypto winter, these numbers are inspiring and speak in favor of the industry's resilience.
The number of retail investors who are investing in or trading crypto on a daily or weekly basis went up from 56% in Q1 to 60% in Q2. Institutional investors are also showing more confidence in their knowledge of crypto. 61% of them deem themselves to be very knowledgeable, compared to 49% in Q1. One in four institutions also said they plan to make crypto a primary source of investment.
Crypto holds its ground against current market trend
We can see that crypto has for the most part maintained the trust of many investors and institutions across the world during a difficult time for the sector. Some fluctuation in trust in certain markets is, of course, to be expected. Another conclusion is that there continues to be interest in crypto as a mainstream method of payment. However, we need to acknowledge that general understanding of crypto among retail and institutional investors alike has plenty of room for improvement as many potential investors expressed their lack of knowledge.
"This Crypto Winter will provide an opportunity for investors, both retail and institutional, to build for the future," said Bitstamp CEO, JB Graftieaux. "
Although trust in crypto has declined slightly in some regions, investors are taking this time to either increase their investment or expand their knowledge of crypto. At Bitstamp, we believe that improving the market's knowledge about the digital assets ecosystem is a move in the right direction towards mainstream adoption."
It is now on us as an industry to reward the faith of our consumers with continued strides towards a better regulated sector, with quality crypto education available to all. At Bitstamp we're on a mission to continue setting the standard in both of these areas in the years to come, so crypto continues its trajectory of increased acceptance and accessibility in the next decade.
For any media inquiries, please contact us at press@bitstamp.net.