Credit Card Deposits Available Again
Dear Bitstamp customers,
We are happy to announce that our Credit Card bitcoin purchase feature is back.
Yes that's right. You can deposit funds from your credit card to Bitstamp here:
[Deposit with Credit Card]
https://www.bitstamp.net/account/deposit/credit-card/
With our Instant Buy option, you can buy bitcoins in seconds by using your Visa or MasterCard credit and debit cards.
After verifying your credit card, you can instantly buy up to $1,000 worth of bitcoins per day.
You are only a few steps away from your instant bitcoin purchase.
To get started:
Go to our Deposit page and choose Credit Card from the side menu.
Choose the amount you would like to spend.
Enter your card details and click submit.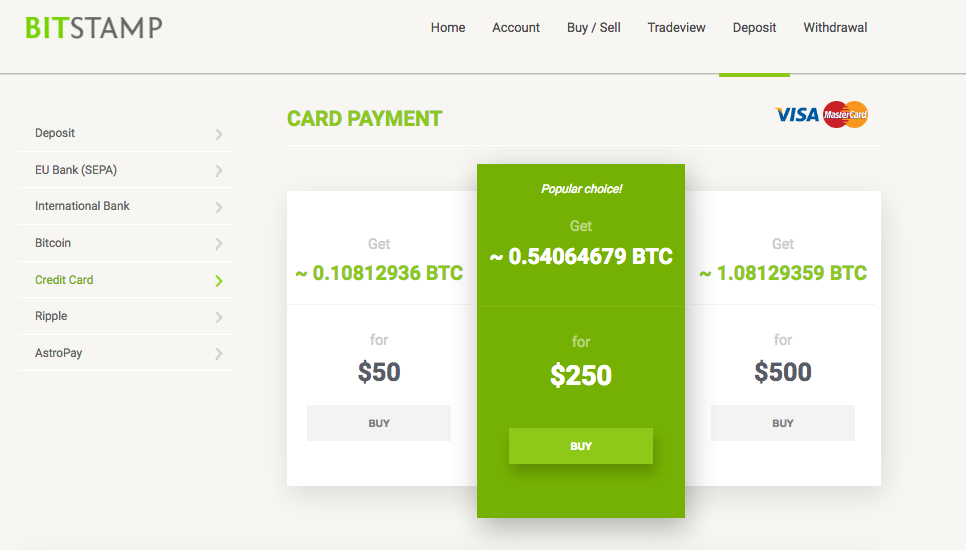 Sit tight for your confirmation email and then you're good to go!
Our Credit Card deposit function is available in the following countries:
Austria, Belgium, Bulgaria, Croatia, Cyprus, Czech Republic, Denmark, Estonia, Finland, France, Germany, Greece, Hungary, Ireland, Italy, Latvia, Lithuania, Luxembourg, Malta, The Netherlands, Poland, Portugal, Romania, Slovakia, Slovenia, Spain, Sweden and the United Kingdom.
For additional information, please contact our support team at support@bitstamp.net
Best,
The Bitstamp Team