Catch up on our latest Bitstamp Talks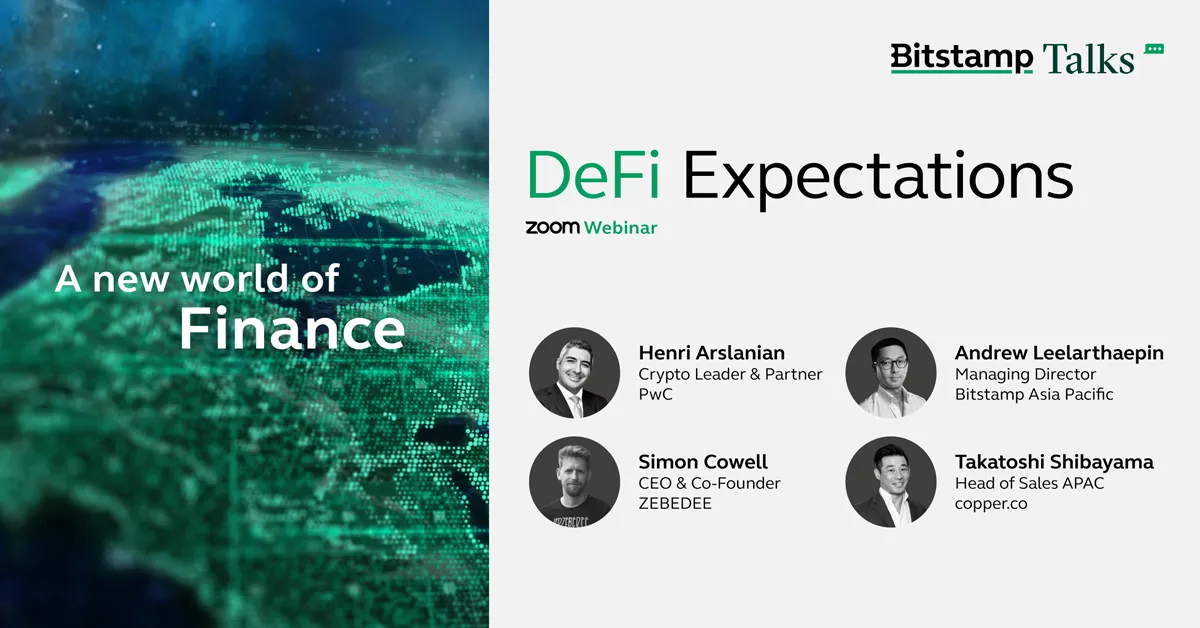 If you missed the inaugural Bitstamp Talks event on Wednesday, February 16, 2022, we've prepared a recap of the event's proceedings for you. Featuring some of the most influential names in the crypto world, attendees were treated to a wealth of knowledge and insight. From institutional-grade solutions, mass adoption, to blockchain use cases, there was something for everyone. If you're itching to find out what you missed, read on:
The crypto ecosystem is developing at a rapid pace, and we are now seeing institutional grade solutions in exchanges, custodians, OTC, liquidity lending and retail offerings.
Regulation is key to wide (institutional and retail) adoption of digital assets.
Blockchain technology and its use cases, especially Metaverse, may outgrow the value derived from cryptocurrency speculation.
Regulatory clarity within financial centers driving crypto adoption
Andrew Leelarthaepin, Bitstamp's Managing Director for APAC, highlights the importance of Asia Pacific - as regulation takes hold in Singapore, Australia, and Hong Kong - in the evolution of cryptocurrencies and blockchain technology. He led the discussion between speakers and an audience representing local and regional banks, global investment banks, asset managers, hedge funds, payment providers, securities brokers and well as a full range of crypto-native firms. With regulation already implemented in Singapore and forthcoming new regulatory structures in Australia and Hong Kong by the mid-point of the year, Andrew anticipates that crypto adoption by the region's banks will continue in 2022 and Philippines' Union Bank is the first such announcement in the new year.
Blockchain is the future, don't miss out
With so many different speakers and topics, this event had something for all variety of firms looking to inform their crypto adoption journey:
Henri Arslanian, Crypto Leader and Partner at PWC, stresses the point that regulatory clarity is a key factor in attracting institutional investors. He emphasizes the link between institutional participation and regulatory clarity, grounded in the Cambridge University study demonstrating that 95% of the world's financial regulators are actively examining cryptocurrencies already. Henri identifies Entry of Institutional Players, Stable Coins, DeFi, NFTs, CBDCs, and Web3.0 & the Metaverse as six major trends to follow in 2022.
Takatoshi Shibayama, Head of APAC sales at Copper.co, addresses the reduction of barriers of participation in digital asset markets for institutional investors, by highlighting the birth of digital asset custody providers. These facilitate the efficient use of digital assets by enabling trading on fast-moving crypto markets, and on top of this offer a range of DeFi opportunities with much greater security and lower counterparty risk.
Simon Cowell, CEO of Zebedee, expands on his belief that "the Metaverse could become bigger than the real economy with the next 50 years." His reasoning being attached to the gaming industry's revenue that at the same time dwarfs other media formats and is not bound by physical limits. With 3.2bn gamers around the world, gaming is not only boundless but also recognized as the biggest underserved community.
Reality Check for Metaverse
The line between hype and reality is often blurred when it comes to cutting-edge technology, and the topic of blockchain is no exception. In the Q&A discussion, the focus was on blockchain's latest use case - the Metaverse. Industry experts and the audience sought to demarcate hype from reality.
The Metaverse has seen significant growth in interest in recent months, among businesses and individuals alike. It has already shown its potential in several areas, including identity verification, asset digitization, NFTs and gaming. As more businesses and individuals adopt blockchain technology, this virtual ecosystem is sure to experience rapid growth in the years to come.
The consensus is that blockchain technology – and the Metaverse in particular – are here to stay, with a lot of headroom for growth.
Bitstamp, the world's longest running cryptocurrency exchange, will continue to share the expertise of our network and partners to deepen your understanding of the complex crypto ecosystem.
📺 Watch full webinar here.
🔔 Register your interest for the next Bitstamp Talks here.