Bitstamp now supports Apple Pay and Google Pay - Summer of Discovery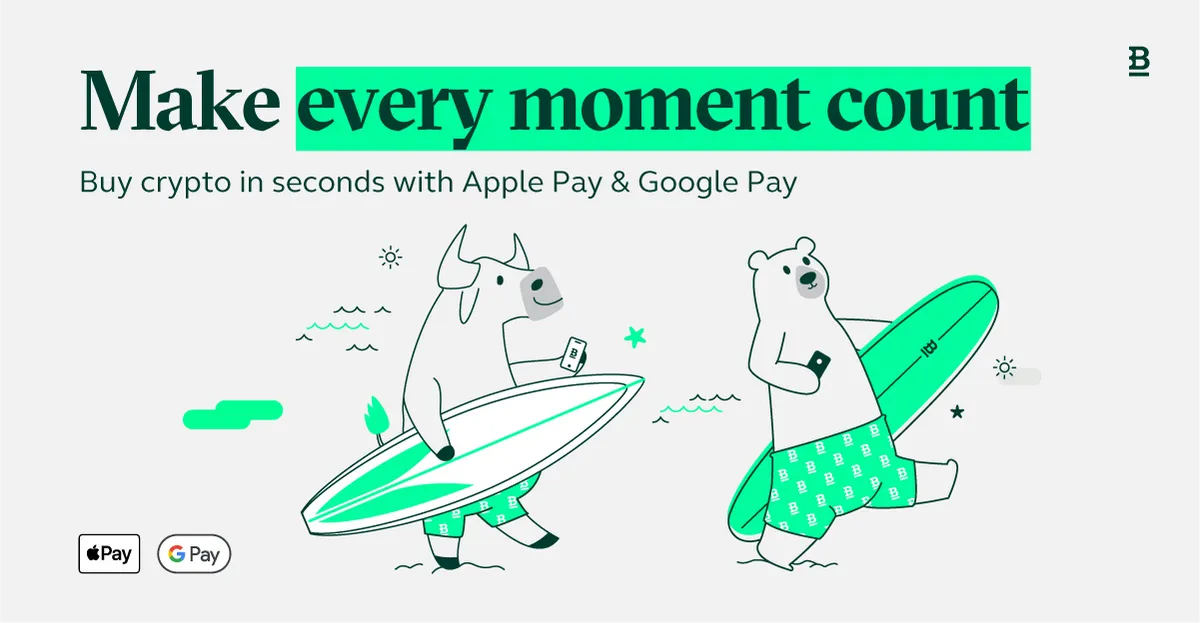 Summer is the time to make every moment count! And now you can buy crypto faster and easier, leaving you with more time to soak in the summer.
At Bitstamp, we endeavor to bring new opportunities for you to access crypto and provide you with simple and convenient experiences during your crypto journey. Today we're happy to announce that you can buy crypto easier and faster via your Apple Pay® and Google Pay® wallets in your Bitstamp App. Buying any coin or token on Bitstamp now takes seconds from start to end - all in one place!
Why do we support Apple Pay / Google Pay?
We have always been dedicated to providing a simple, safe and convenient user experience when it comes to trading cryptocurrencies. That's why we now support Apple Pay and Google Pay - two of the most popular payment methods in the world*. Supporting them is aligned with our mission of making crypto accessible to everyone and bringing the future of finance to every corner of the world. With Apple Pay and Google Pay, you can now easily trade cryptocurrencies with just a few taps on your mobile devices. This new payment method is available in addition to bank transfer and card payments, making Bitstamp the most convenient platform to trade cryptocurrencies.
How do Apple Pay / Google Pay work?
The Bitstamp App (available in Google Play and App Store) now seamlessly connects with your Apple Pay or Google Pay account, enabling the quickest and easiest access to 75+ assets (31 in the US). They allow you to store your credit or debit card information on your phone and then use it to make payments instead of using your physical card. Both Apple Pay and Google Pay work in a similar way:
1. First, you add your credit or debit card to your phone's digital wallet.
2. Then, when you're ready to make a purchase, open the Bitstamp app on your phone where you'll see an additional option for instant crypto purchase on all screens where the card purchase is available.
3. Select "Buy with Apple Pay/Google Pay".
4. Enter and verify the amount you want to spend for your crypto purchase.
5. Confirm your purchase.
We're committed to providing easy, safe, and convenient access to crypto for all types of users. With Apple Pay and Google Pay we're staying true to these commitments.
For additional information check out the FAQ page on how to deposit with Apple Pay & Google Pay.
We're not done yet, so stay tuned for more discoveries.
*Currently, Apple Pay and Google Pay services are only available to users from countries eligible for card purchases.
Apple Pay and Google Pay integration will not be available to customers in Singapore and the following states: Hawaii, Louisiana, and Nevada. Bitstamp is licensed to engage in virtual currency business activity by the New York State Department of Financial Services. Apple Pay is a registered trademark of Apple Inc. Google Pay is a trademark of Google LLC.