Bitstamp leverages Notabene's software to comply with Travel Rule in Singapore, the US and EU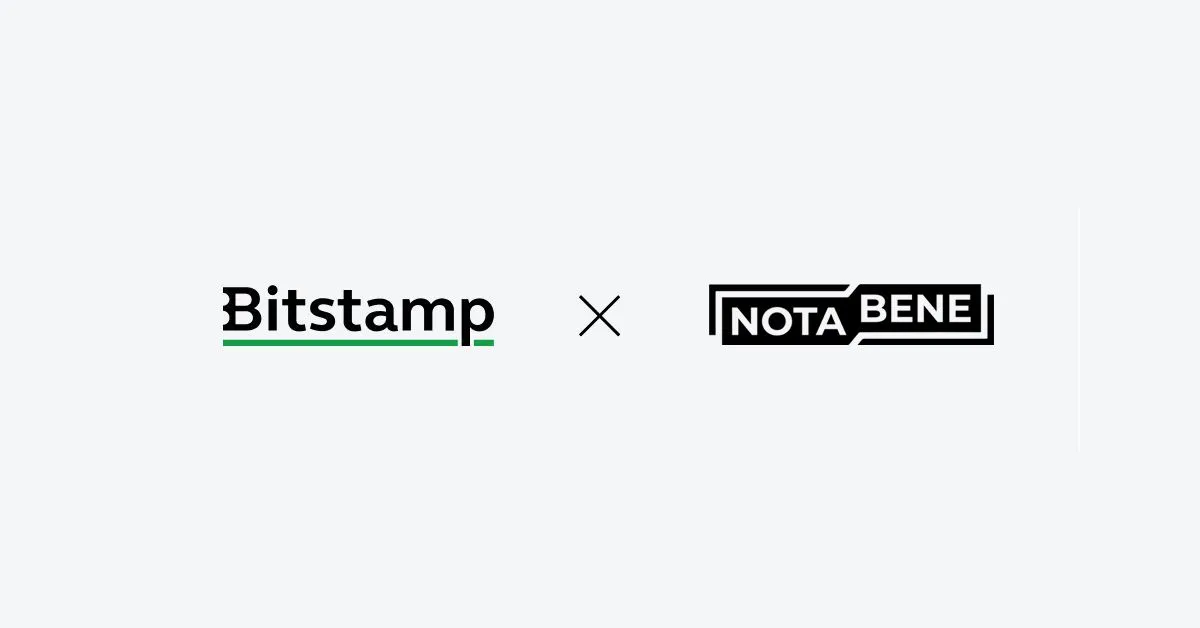 NEW YORK, NY - Bitstamp, the world's longest-running cryptocurrency exchange is partnering with Notabene to implement their end-to-end solution for crypto regulatory compliance to comply with global Travel Rule regulations across the US, EU and Singapore.
Complying with the Travel Rule in the United States and globally

The Travel Rule, an anti-money-laundering regulation introduced in 2019 by the Financial Action Task Force (FATF), compels virtual asset service providers (VASPs) to disclose, collect, screen, and transmit customer personally identifiable information (PII) when transacting in crypto assets beyond a certain threshold. The challenge posed to large crypto exchanges is to have a comprehensive solution that handles the different jurisdictional interpretations of the FATF Travel Rule–which is commonly referred to as the Sunrise issue.

One example of this relates to the different thresholds and data points set by different regulators. The Monetary Authority of Singapore requires the ordering institution to value originator and beneficiary information to the beneficiary regardless of the transaction amount, with further information required exceeding 1,500 SGD. The United States Financial Crimes Enforcement Network (FinCEN) set a suggested crypto Travel Rule threshold of $3,000. In contrast, Europe's cryptocurrency regulator the European Banking Authority (EBA) set a threshold of EUR 1,000, in line with the FATF recommended guidelines.

As one of the largest exchanges that processes a large volume of transactions to countless counterparties daily, Bitstamp required a sophisticated solution that streamlines VASP due diligence, counterparty wallet identification, automates transactions, and routes Travel Rule compliant data transfers to the largest number of VASPs.

Julian Sawyer, CEO of Bitstamp comments:
"Our partnership with Notabene reflects our position as a leader in crypto security. Ensuring investors can trade safely and securely is a key priority for us and today's partnership will enable us to deliver this to a growing number of traders across different jurisdictions, through the use of Notabene's pioneering technology. Notabene's global reach was one of the main reasons we decided to work together so we can roll out our solution to markets around the globe to further support investors."
Pelle Brændgaard, CEO of Notabene, adds:
"As a storied exchange with a high volume of global transactions and numerous counterparties, interoperability is crucial for Bitstamp. Bitstamp chose our sunrise-friendly universal end-to-end travel rule solution which features our proprietary protocol switch offering the widest coverage of VASPs globally. Notabene is proud to collaborate with Bitstamp, the world's longest-running cryptocurrency exchange."
---
About Bitstamp
Bitstamp is the world's longest-running cryptocurrency exchange, supporting investors, traders, and leading financial institutions since 2011. With a proven track record, cutting-edge market infrastructure, and dedication to personal service with a human touch, Bitstamp's secure and reliable trading venue is trusted by over four million customers worldwide. Whether through their intuitive web platform and mobile app or industry-leading APIs, Bitstamp is where crypto enters finance. For more information, visit www.bitstamp.net.

About Notabene
Notabene is a reg-tech Software-as-a-Service solution that turns regulatory compliance into a competitive advantage. Notabene is working to make crypto transactions a part of the everyday economy by providing software, tools, and comprehensive data to manage regulatory and counterparty risks in crypto transactions. Companies leverage our end-to-end FATF Travel Rule solution to identify virtual asset accounts, perform mandated VASP due diligence, and manage global transactions from one dashboard. Trusted by leading exchanges, Luno, Bitso, Crypto.com, and more. Notabene is headquartered in New York with offices in Zug and Santiago de Chile. To learn more, visit www.notabene.id. Download a copy of Notabene's State of Crypto Travel Rule Compliance Report.
---
Media contacts

Bitstamp
press@bitstamp.net
Notabene
Liang Zhao
505-720-6933
lz@vansary.com