Bitstamp Launches Earn Product in the United States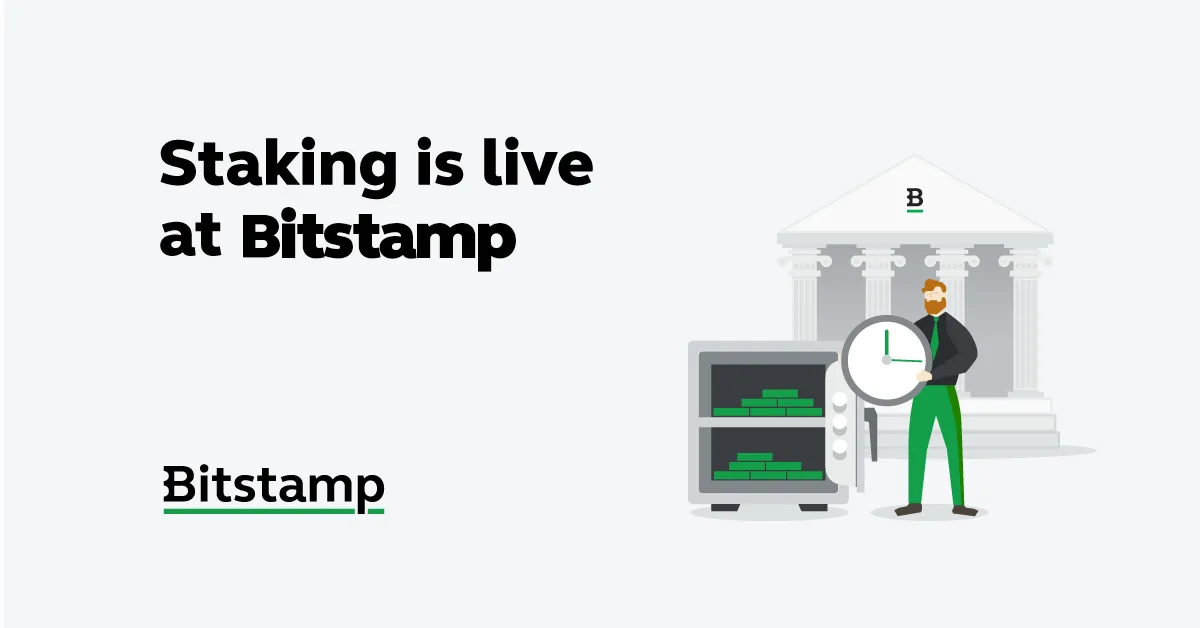 June 2, 2022 – Crypto exchange Bitstamp today announced the launch of its Earn product in the United States. For the first time, Bitstamp is offering its U.S. retail and institutional customers the ability to participate in staking through its secure, regulated platform, earning up to 5% in staking rewards compared to an average of 0.05% with a traditional savings account.
Retail customers are looking for opportunities to grow their portfolios, especially in times of high inflation and low rewards. Now, not only can people buy cryptocurrency with Bitstamp, they can start earning significant staking rewards. According to the recent Bitstamp Crypto Pulse survey, people are more receptive to crypto as a long-term opportunity than ever: 80% of institutional investors and 54% of retail investors believe crypto will overtake traditional financial products within the next 10 years.
"Inflation is up and your standard savings account earns you next to nothing, so we see a big opportunity to educate people about staking and to provide a secure, regulated, user-friendly way to do it," said Bobby Zagotta, CEO of Bitstamp USA. "With the launch of Bitstamp Earn in the US, Bitstamp continues to meet the demands of investors and provide ways for them to smartly adapt to today's economy."
Bitstamp is one of only a handful of exchanges to offer ETH staking in the U.S. "The Merge" will soon mark a major turning point for Ethereum, taking it from a Proof of Work blockchain to a more efficient Proof of Stake network. As such, Bitstamp users in the U.S. can participate in securing the Ethereum network and earn staking rewards at competitive rates through Bitstamp's secure and user-friendly infrastructure. Customers can also participate in ALGO staking at 5% APY, tapping into the Algorand network's eco-friendly pure Proof of Stake consensus mechanism.
The share of ETH in Bitstamp's assets under management globally has risen 70% since January 2021. In the US, Bitsamp has seen a trend towards more first-time buyers of ETH compared to BTC. As interest in Ethereum grows, the importance of staking grows as well. Globally, Bitstamp has seen the highest staking adoption among clients in the 45-50 age range, who have more than 30% of their ETH staked.
In the coming months, Bitstamp plans to roll out support for staking other digital currencies, while continuing to provide a safe, regulated way for people to participate in the crypto markets as inflation rises. To start using Bitstamp Earn, please visit https://www.bitstamp.net/.
Annual Percentage Yield (APY) and annual percentage rate (APR) as of 6/2/2022 may change before or after your account is opened. APY and APR are subject to change without notice. Not available to residents of Alabama, Hawaii, Idaho, Louisiana, New Jersey, New York and Nevada.
Virtual currency is not legal tender, is not backed by the government, and accounts and value balances are not subject to Federal Deposit Insurance Corporation or Securities Investor Protection Corporation protections.
Bitstamp is licensed to engage in virtual currency business activity by the New York State Department of Financial Services.