Bitstamp is the only crypto exchange with 6 consecutive highest AA ratings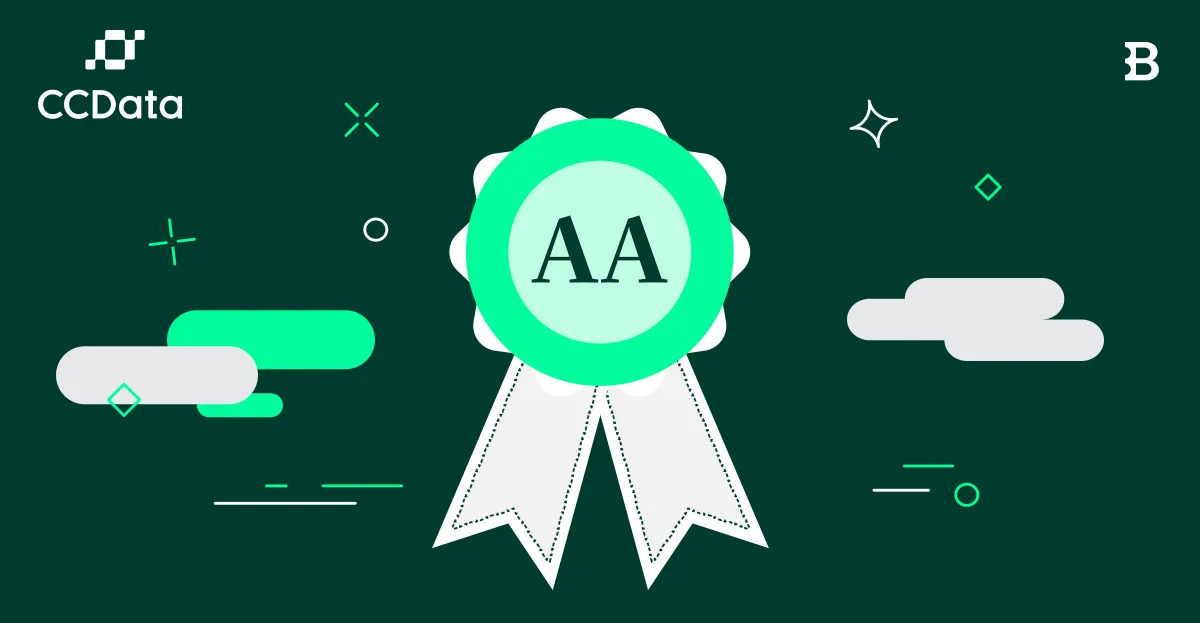 It's not every day that a crypto exchange sets an unparalleled standard in the industry. Today, we're proud to announce that Bitstamp has been awarded its 6th consecutive highest AA rating in the CCData Exchange Benchmark Report. With that, we became the only crypto exchange to ever achieve this.
In a landscape as dynamic and unpredictable as cryptocurrency, stability becomes the north star. As many await the market's next uptrend, there's palpable tension. At moments like these, where does one turn for reliability?
We've proven that people can turn to Bitstamp. Because we remain our customers' consistent partner, prioritizing reliability and consistent excellence above all.
Why is the CCData Exchange Benchmark so valuable?
CCData Exchange Benchmark is not just any ranking system. Employing over 200 qualitative and quantitative metrics, it offers a comprehensive overview of the crypto industry's best. Excelling in their metrics is not about mere number play, but rather about manifesting core values into actionable, customer-centric features and offerings.
For better understanding, take a closer look at the CCData Exchange Benchmark Report.
How did we achieve our 6th consecutive top AA rating? It's rooted in the foundational principles upon which Bitstamp was established from the very beginning.
Excelling where it matters most
At Bitstamp, our commitment to excellence has always been evident across various dimensions of our operations. We're proud to say that we've been strong contenders in all their categories. Notably, we've achieved exceptional ratings in four critical categories in the CCData Exchange Benchmark Report.
Legal/Regulation: A foundation of trust
In the category of legal and regulatory compliance, we've achieved the highest possible score. Being regulated isn't just about ticking a box for us. It's about aligning with globally accepted best practices and ensuring our operations adhere to all neccessary legal and regulatory obligations. Our long-standing history since 2011 is a testament to our dedication to operating within the scope of regulatory clarity. Bitstamp currently holds more than 50 licenses and registrations globally. We're held to the highest compliance standards. Read more about Read more about our regulatory practices.
KYC/Transactional risk: Securing every step
With another perfect score in KYC/Transactional Risk, our surveillance systems and transaction monitoring protocols set the benchmark for the industry. We've implemented strict KYC/AML procedures and we're dedicated to maintaining a secure environment for all transactions, safeguarding your assets and our platform's integrity. Another note on our commitment to compliance - 29% of our team are dedicated to roles in compliance, regulation, legal, risk management, security, and internal audit.
Market quality: Ensuring superior trading conditions
In Market Quality, our score is a testament to the cost-effective, liquid, and stable trading environment we provide. We strive to ensure natural trading behavior, incentivize market makers, and maintain steady average monthly volumes. Partly thanks to our customer-centric approach - we're committed to providing our customers with an easy trading experience. Our platform features an intuitive interface for effortless navigation, instant deposit options for quick account funding, and the ability to cash out directly to your bank account for seamless transactions. We even tailor the experience and offer two distinct apps; the Bitstamp app for a straightforward, user-friendly way to buy and sell crypto, and the Bitstamp Pro app, designed for the advanced needs of pro traders and crypto experts.
Team/Exchange: Expertise that leads
In the Team and Exchange category we stand out with one of the highest scores. The identities and qualifications of our leadership, their years of experience, and our exchange's maturity establish us as a seasoned entity capable of delivering unparalleled service.
Choosing consistency & reliability above all
When selecting a crypto exchange, it's easy to be swayed by flashy features or transient offers. However, it's the consistent, reliable, and steadfast platforms that truly stand the test of time.
Since 2011, we've been the beacon of dependability in the crypto space, evolving while always maintaining our core values.
In conclusion, while recognition and ratings are affirmations of our hard work, our true reward lies in the trust and loyalty of our customers, and our community. As we celebrate this milestone, we're continuing our dedication to setting standards, achieving milestones, and pioneering unparalleled excellence in the crypto world. We remain, as always, your trusted partner in your crypto journey.
Choose reliability. Choose Bitstamp.