We have a new CTO and promoted key personnel to strengthen our global team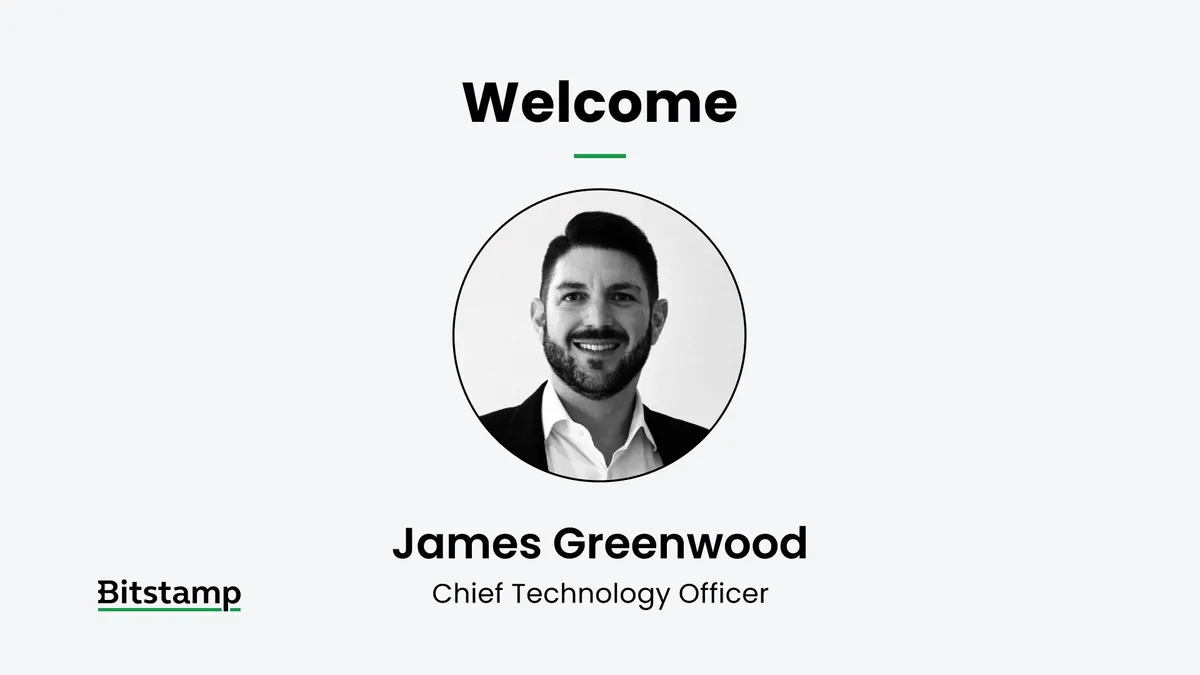 As we look to strengthen our global team and spearhead the burgeoning cryptocurrency market, we're announcing a series of high-profile hires and internal promotions.
We're looking to push the boundaries of crypto with new DeFi products, and James Greenwood will be our new person in charge. As a Chief Technology Officer (CTO), James will drive further innovation across Bitstamp's products and services. He brings a wealth of experience from the global banking and fintech sectors to Bitstamp, since he has driven the transition from traditional to digital banking for several leading players across the globe, most recently as Chief Product Officer at Zand Bank (UAE).
His right hand will be Miha Miklic, who's been with the company when it was comprised of just 20 employees. As a Deputy CTO, his role is now instrumental in scaling up Bitstamp's technology organisation to accommodate the next generation of DeFi products.
We're also proud to announce the appointment of yet another industry veteran, David Osojnik, who has stepped up with responsibilities from CTO position to Bitstamp's Advisory Board.
Julian Sawyer, CEO of Bitstamp, said: "As Bitstamp continues to grow, it's vital that we continue to push the boundaries of technology whilst also ensuring that our standards are maintained on a global scale.
"I'm delighted to be welcoming James to the team and excited to see him harness his experience from the banking and fintech markets to take Bitstamp to the next level.
I'm also delighted to congratulate both David and Miha on their new roles. They have been instrumental in creating and maintaining Bitstamp's legacy, and I'm thrilled that they are continuing with us on the next phase of our growth journey."
James Greenwood, CTO of Bitstamp, added: "Throughout my career, I have focused on being at the forefront of digital financial services. As Crypto and DeFi become mainstream, this is where that focus now is, and bringing that experience to Bitstamp will help us stay at the helm of innovation in this space."
Bitstamp has a clear vision and purpose, and I look forward to us cementing its position as a global leader, focused on harnessing the benefits of technology to deliver positive outcomes for crypto investors."
David Osojnik, Bitstamp's Advisory Board Member, said: "Over the past seven years, I've seen Bitstamp continue to step closer to the global company we have always envisioned. In building Bitstamp's legacy, I've been able to develop my expertise in crypto and DeFi technology and look forward to bringing that experience with me to the board to help Bitstamp to grow further. "
Miha Miklic, Deputy CTO of Bitstamp, commented: "I see a clear opportunity for Bitstamp to become a bolder player in the global crypto market and build on our foundation as the world's longest standing exchange – and I'm excited to support this goal in my new position.
"I'm looking forward to drawing on my engineering experience and utilising this to help drive future innovation across our products and services, particularly as regulation continues to evolve and customer demand heightens."
We're sure that the newly gained positions and responsibilities will keep them busy for years!