Bitstamp has been named CryptoCompare's top-rated centralized exchange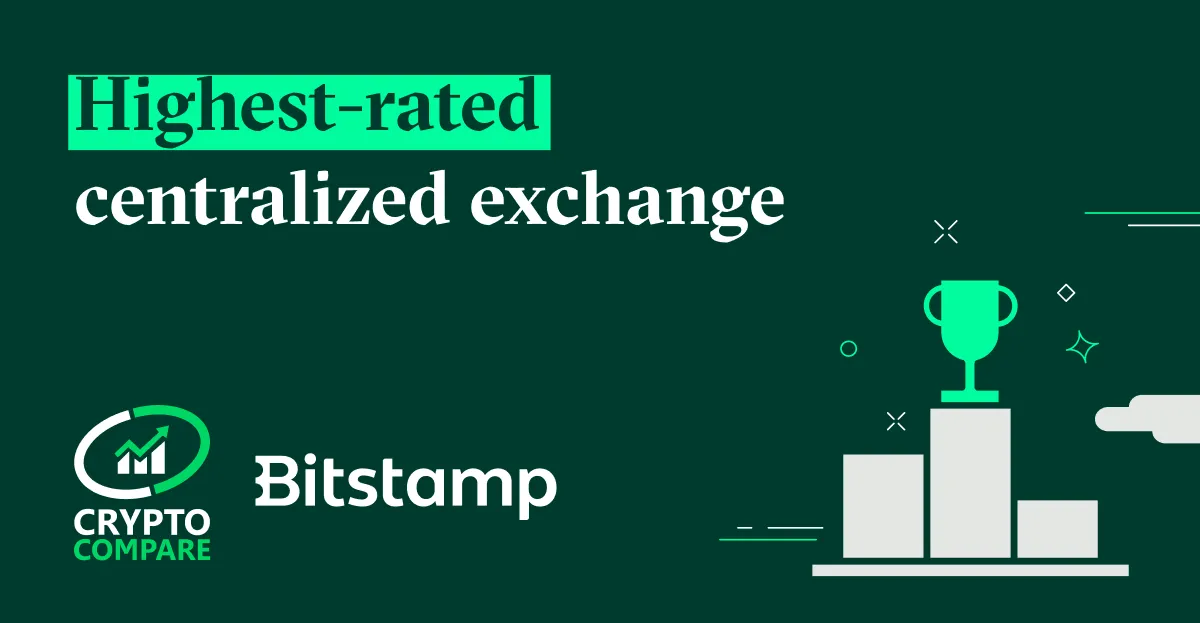 Bitstamp is the only crypto exchange among more than 130 CEXs to receive an AA rating in CryptoCompare's latest report
CryptoCompare's latest Exchange Benchmark report on the performance of centralized and decentralized crypto exchanges has been published. Bitstamp's rating has not only been on par with all our previous benchmark scores, but we are now ranked as the top-rated centralized crypto exchange (CEX). Among 160 exchanges, 130 of which are centralized, Bitstamp is the only exchange to receive the highest AA rating consistently over the last four surveys, including the latest.
CryptoCompare greatly expands metrics for their latest benchmark
Bitstamp's unwavering focus on compliance and regulation, along with the creation of new educational tools and pricing initiatives to help mainstream audiences confidently approach cryptocurrencies, has been globally recognized.
130 CEXs and 30 DEXs globally were ranked from grades AA to F to identify the most trustworthy and the lowest-risk trading venues for market participants.
CryptoCompare is the FCA-authorized benchmark administrator and leading institutional digital asset data provider. Their Exchange Benchmark was established in 2019 with the aim of bringing unbiased clarity to the digital asset exchange sector. It provides a framework for assessing risk and brings transparency and accountability to a market that can be complex to new entrants.
Market-maker incentives, API trading, and proof of reserves were included in the unique methodology that covers 60+ metrics under the following areas: Security, Community, Transparency, Governance, Market Quality and Incentives.
The latest report also expanded to include a thorough DEX Benchmark which assesses decentralized exchanges from a risk perspective.
CryptoCompare's Exchange Benchmark becomes an essential tool for investors
CryptoCompare operates with an extensive range of diverse market data, including OHLCV (open-high-low-close charts) and order book snapshots. This called for restructuring and the improvement of their Market Quality scores, bringing additional weight to the ratings and making them even more comprehensive and concluding.
CryptoCompare's Exchange Benchmarks are backed by thousands of research hours and encompass over 160 qualitative and quantitative metrics to develop a comprehensive score for each exchange. The report is updated twice a year to reflect the fast-changing digital asset landscape. All exchange rankings are available via the CryptoCompare website, alongside the methodology detailing how the grades are calculated.
Taking all of this into account, CryptoCompare's report is the gold standard in exchange rankings, and their designation reflects Bitstamp's commitment to the multitude of factors necessary to make crypto investing secure and accessible to all.