Bitstamp Earn is now live in the US!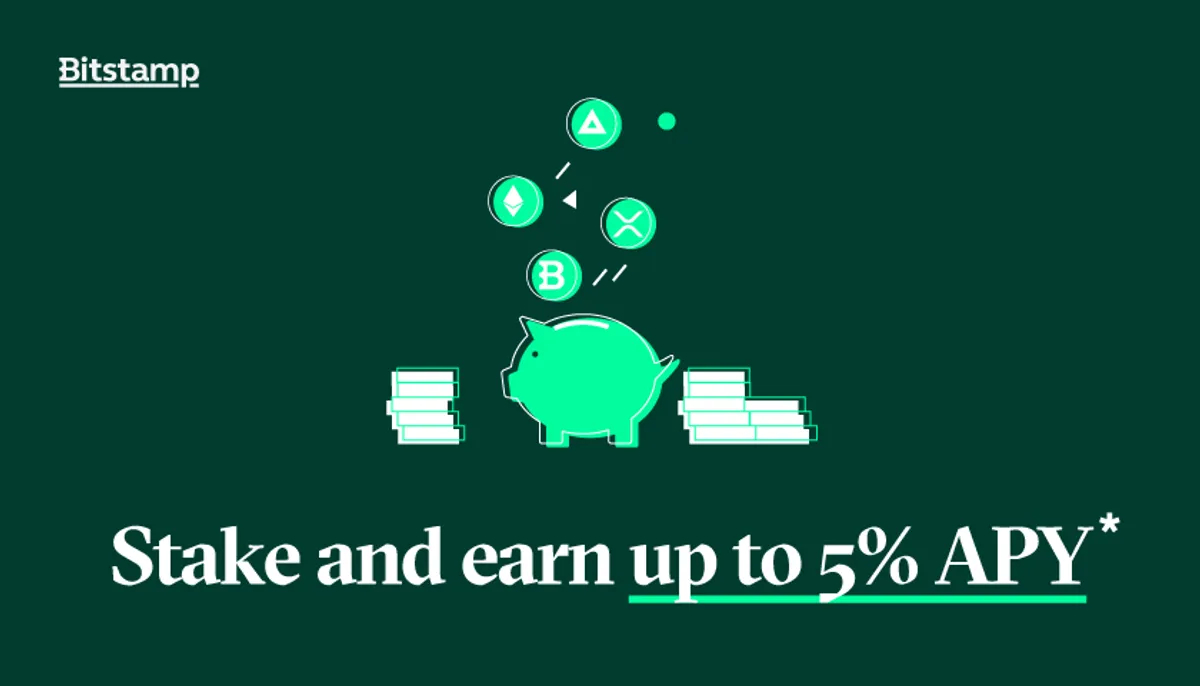 We are excited to announce that Bitstamp Earn is now live in the US. Earn more crypto from staking at Bitstamp.
With Bitstamp Earn, you can earn up to 5% APY* by staking your crypto. Bitstamp Earn supports Ethereum (ETH) and Algorand (ALGO), with more cryptocurrencies to come.
As part of the launch, you can now get up to $50 in free crypto when you add and stake tokens with Bitstamp. For a limited time only.  See promotion details and FAQ to learn more. Not available to residents of Alabama, Hawaii, Idaho, Louisiana, New Jersey, New York and Nevada.
---
Why Earning on Your Crypto Matters
Cryptocurrencies continue to gain mainstream adoption. Whether you're new to crypto or have been active for years, we believe the opportunity to earn staking rewards is important.
As a long-standing cryptocurrency exchange with a highly trusted reputation, we believe everyone should have access to crypto in an easy and secure way.
With staking rewards, Bitstamp Earn provides a simple way to earn additional crypto.
---
How does staking with Bitstamp Earn work?
In a Proof of Stake blockchain, your cryptocurrency can be staked (or locked) and used to verify and validate transactions on the blockchain, and in return, you receive rewards. Some cryptocurrencies are locked for a set period of time while others have no locking period, depending on the specific blockchain requirements.
At Bitstamp, we understand that running your own node, or staking your own cryptocurrency, can be technically challenging. This is why we make it as easy as possible so you can put your crypto to work and earn rewards.
In just a few clicks, you can stake your cryptocurrency on the Bitstamp platform and earn additional rewards on your crypto that would otherwise be sitting idly in your account.
---
What are the reward rates?
When you stake your tokens at Bitstamp, you can earn up to 5% APY* on ALGO and ~4.4% APR* on ETH (subject to change per the Ethereum protocol). Visit the Bitstamp Earn page to see the current rates.

Note that with an APY, the rewards are paid out and added to your principal amount, allowing you to gain compounded rewards on your crypto. APR does not account for compound rewards since the amount contributed (also known as the principal amount) does not increase when receiving rewards.
---
What is Algorand?
Algorand is a smart contract platform for building decentralized applications (dapps) and was created with the goal of solving the blockchain trilemma by trying to find the right balance between speed, security, and decentralization.
Algorand's native cryptocurrency, ALGO, can be used to pay for transaction fees and any holder can participate in the platform's governance system. Holding ALGO enables users to vote on changes to the software and earn a share of new ALGO tokens as rewards.
What is Ethereum?
Ethereum is a blockchain platform that functions as a ledger for ether (ETH), its native cryptocurrency, and whose main purpose is to store and run smart contracts, which are transactional programs written into the blockchain. Thanks to its ability to run smart contracts, the network also supports the development of decentralized applications (dapps) and the creation of new crypto tokens.
What is the Ethereum merge?
A planned set of upgrades are underway to make the Ethereum blockchain more efficient and improve its overall performance. Read more about it here.
As part of the upgrade, the Ethereum network intends to move from a Proof of Work (PoW) system to a Proof of Stake (PoS) one. Users can lock, or stake, their ETH in a smart contract and earn a share of ETH for solving computations needed to add new blocks to the blockchain.
According to the software, the minimum amount of ETH needed to become a validator node is 32 ETH. However, Bitstamp allows you to stake as little as 0.1 ETH and receive staking rewards in APR. For more information on ETH staking, head over to our FAQ page.
---
*Annual Percentage Yield (APY) and annual percentage rate (APR) as of 6/2/2022 may change before or after your account is opened. APY and APR are subject to change without notice. Not available to residents of Alabama, Hawaii, Idaho, Louisiana, New Jersey, New York and Nevada.
Virtual currency is not legal tender, is not backed by the government, and accounts and value balances are not subject to Federal Deposit Insurance Corporation or Securities Investor Protection Corporation protections.
Bitstamp is licensed to engage in virtual currency business activity by the New York State Department of Financial Services.