Bitstamp and ZEBEDEE connect crypto users and Bitcoin gamers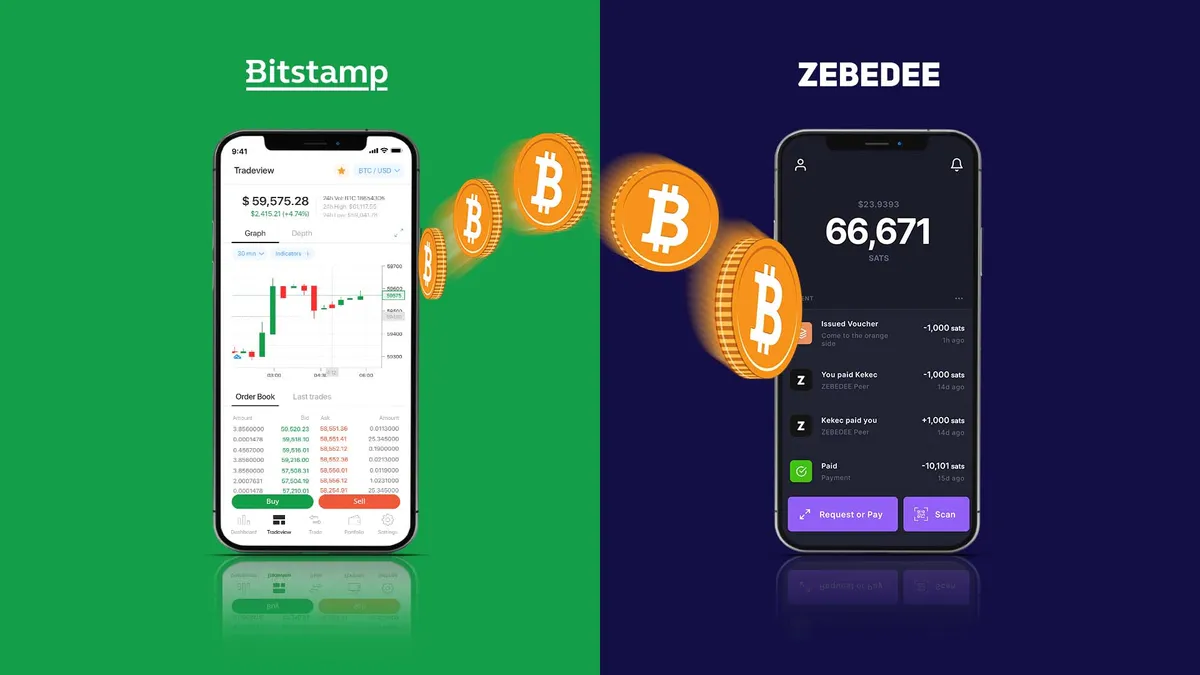 We're proud to announce a partnership that'll send ants down your pants if you're even just a tiny bit involved in Bitcoin and online gaming.
We're teaming up with ZEBEDEE, a leader in Bitcoin gaming infrastructure, in a joint venture with the mission to give both investors and gamers direct and frictionless access to each other's platforms. But enough fancy talk, what does it mean for all who like to grind, shoot, gather, and build in various online games, and all the others who like to trade, invest, stake, and hodl on our crypto exchange?
Well, with this partnership, our customers and ZEBEDEE gamers will be able to seamlessly transfer Bitcoin to the virtual gaming world, allowing them to utilize the currency across games. It's the first time that gamers will be able to transfer Bitcoin from an exchange directly to their ZEBEDEE wallet to use in their favorite games.
To help you get started, we're offering a referral bonus of $5 in BTC to all who sign up at ZEBEDEE. We're giving away a total of $125,000 worth in BTC so don't hesitate to apply. To get the bonus, you need to be in one of the supported countries and either a new customer or an inactive customer at Bitstamp.
"This is a true integration of gaming and BTC trading," says David Osojnik, our CTO, "With the ability to move Bitcoin between ZEBEDEE and our exchange easily at the push of a button, it's essentially like having a joint account for both platforms. The global gaming industry is worth over $170B per year – more than the entirety of the music and film industries combined. That's why we're bullish that this integration will encourage the next wave of crypto investors."
With over two billion gamers in the world, ZEBEDEE is creating a system that is inherently global and inclusive by using Bitcoin. Their growing ecosystem is based on the Bitcoin Lightning Network, which facilitates instant payments with near-zero fees. Lag-free transactions, just like you prefer your games to be.
"We don't see ourselves as a cryptocurrency company, but a fintech for the gaming industry," said Simon Cowell, CEO of ZEBEDEE, "Bitcoin serves as the basis for our technology stack, because it is simply the best network and form of money for the job. With our platform, we've unlocked the next frontier for game economies: nano payments as small as a fraction of a cent and the ability to instantly transfer your earnings between different games and out into the real world."
To mark the launch of this new bridge integration, we'll be distributing a Bitcoin that'll be available to players through a range of ZEBEDEE-powered titles on PC and mobile.
If you're new to the game, it's meant to provide you with easy entry into the world of Bitcoin gaming. You'll be able to get started for free and earn some Bitcoin by playing your favorite games without having to already be a crypto user. This time, ZEBEDEE's including more casual mobile games and simple racing games that you can play with your friends. You can earn free Bitcoin while having fun regardless of your skill level.
In the last four months, we've already been distributing the first Bitcoin into the ZEBEDEE ecosystem by hosting sponsored matches and special events inside ZEBEDEE Infuse. The app enabled gamers to earn Bitcoin with CS:GO, the largest multiplayer first-person shooter game in the world.
Our partnership with ZEBEDEE is an integral part of our support to the gaming community. We're certain it'll transform how economies are formed in virtual worlds and future implications are bound to be much bigger than earning some BTC by making a few headshots in your favorite FPS. Think about it, when your activities in a game can have real economic implications either for you or someone else, it unlocks new doors for creating value.
It's finally time to say 'all your BTC are belong to us'. We've been waiting for years to justifiably use this phrase!