Bitstamp adds physical gold delivery as withdrawal option
Dear Bitstamp clients,
We are offering a new method of withdrawing funds in the form of physical gold to our EU clients.
Gold
For centuries, gold has proved to be a timeless and exceedingly valuable source of capital preservation due to its unwavering value. Additionally, gold has always been an efficient hedge against the inflation and currency risks.
Bitcoin has been often described as digital gold so we have, in cooperation with
Moro & Kunst d.o.o.
, brought bitcoin and gold a bit closer.
Moro
Moro & Kunst d.o.o. is internationally recognized precious metals reseller operating in Slovenian, Austrian and Croatian financial market since 1993. Since incorporation MORO has been exclusively working with Argor Heraeus, Switzerland and The Austrian Mint, Münze Österreich, 800 year old Vienna-based mint.
Ordering
Gold prices are quoted in USD and updated every 5 minutes. At the moment, purchase is only available with USD. Before submitting an order, USD balance must be available. To initiate an order go to withdrawal section
and click
Gold
.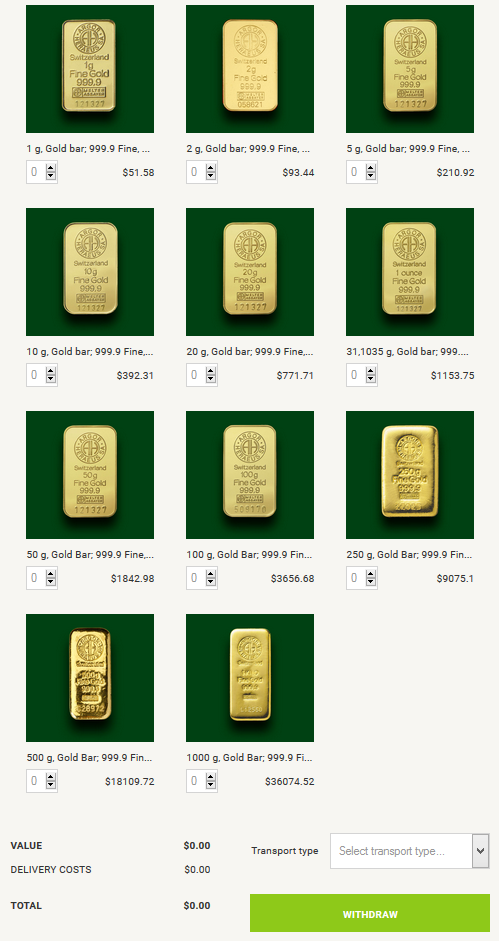 Shipping
Fully insured gold shipment comes with a tracking number and will be delivered within 2 to 5 business days after the order is placed.
Personal pickup is also available at the Moro company premises located at: Dunajska cesta 156, 1000 Ljubljana, Slovenia.
Service is available in: Austria, Belgium, Bulgaria, Croatia, Cyprus, Czech Republic, Denmark, Estonia, Finland, France, Germany, Greece, Hungary, Italy, Latvia, Lithuania, Luxembourg, Malta, Netherlands, Poland, Portugal, Republic of Ireland, Romania, Slovakia, Slovenia, Spain, Sweden, United Kingdom.
For additional information, please contact our support team at support@bitstamp.net
Best regards,
Bitstamp team