Bitcoin and Ethereum becoming too slow and expensive for your taste? Look no further, we're introducing Hedera Hashgraph (HBAR)!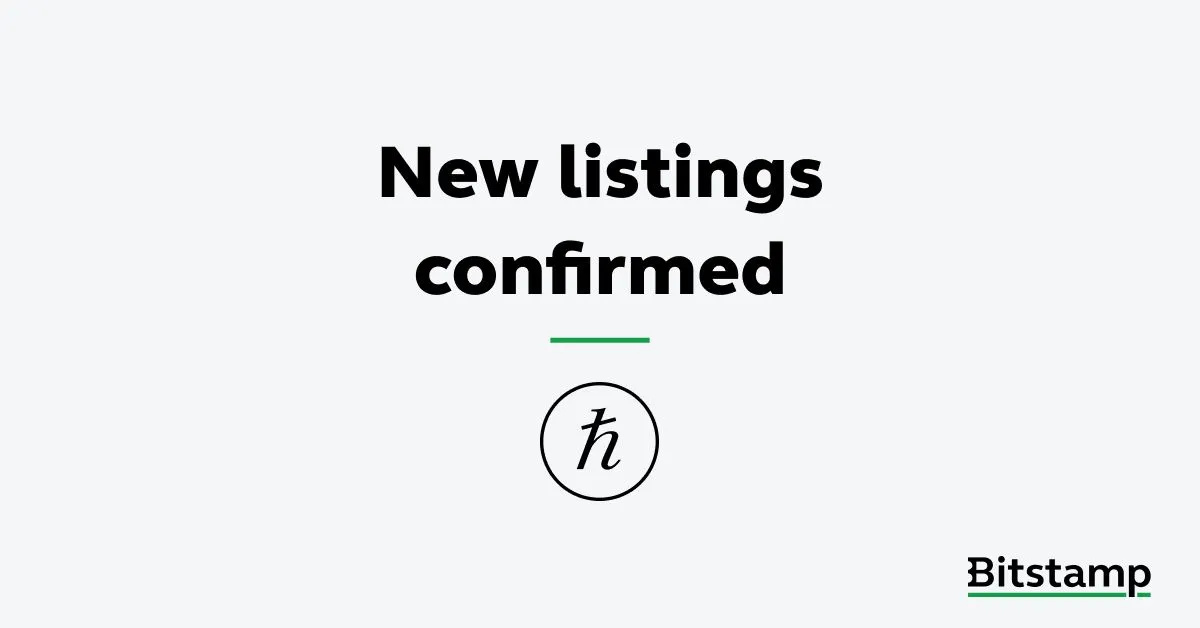 HBAR will be available globally, with exception of Singapore. That means even our U.S. customers, including the ones in the New York, can trade HBAR at Bitstamp.
Hedera, the proof-of-stake public network paving the way for the future of public ledgers, is joining the listing on Bitstamp with its token - HBAR. We'll focus on HBAR later on, now let's see what the project's all about.
Hedera is a public distributed ledger and governing body built from the ground-up to support new and existing applications running at web scale. It's built on the hashgraph consensus algorithm that provides near-perfect efficiency in bandwidth usage and consequently Hedera can process more than ten thousand transactions per second in a single shard.
The Hedera network became openly accessible to the public in September of 2019 and since then it has become one of the most utilised public networks, processing over 2.5m transactions per day. Hedera offers two primary services, the Hedera Consensus Service (HCS) and the Hedera Token Service (HTS). HCS synchronizes and provides the fair ordering and timestamping of transactions and HTS enables the configuration, minting and management of fungible and non-fungible tokens. This can be done without the need of setting up and deploying smart contracts.
Unlike most other cryptocurrency platforms, Hedera Hashgraph isn't built on top of a conventional blockchain. Instead, it utilizes a distributed ledger technology known as a hashgraph. This technology allows it to improve upon many blockchain-based alternatives in several key aspects: speed, cost, and scalability to name a few. Hedera transactions have an average transaction fee of just $0.0001 USD with finality of consensus in under five seconds. Overall, Hedera Hashgraph can process more than 10,000 transactions per second. That's a lot compared to the most popular proof-of-work-based blockchains that can handle somewhere around 5 to 20 per second. A significant improvement compared to Bitcoin as well as Ethereum, for example.
The HBAR token plays a dual role within the Hedera public network.Firstly, it powers the Hedera services mentioned above, and secondly, it's used to help secure the network, since HBAR users will soon be able to stake their tokens to assist with maintaining the integrity of the platform.
By the way, on the important topic of sustainability - Hedera has the lowest energy footprint of Proof of Stake DLT's according to UCL and the Hedera Council has commited to being carbon negative. The Hedera Council is also an active contributor to standards within the distributed ledger technology (DLT) and sustainability industry where the council members work closely with applications building carbon markets using the Hedera network.
---
Listing schedule:
1. Transfer-only mode - Oct 11: Deposits and withdrawals open but trading is not enabled yet.
2. Post-only mode - Oct 13 (9:30 AM UTC): You will be able to place and cancel limit orders, but they will not be matched. Therefore, no orders will actually be completed during this stage.
3. Limit-only mode - Oct 13 (1:00 PM UTC): Order matching will start and trades will be executed normally. However, only limit orders will be available.
4. Full trading: Once the order books gather sufficient liquidity, we will enable all order types and card purchases for the new trading pairs as well.
Follow us on Twitter for real-time updates on the rollout of the new trading pairs.
---
Here's a full list of new trading pairs to be added at Bitstamp:
Log in to your Bitstamp account to start trading and get the Bitstamp mobile app to trade all of our cryptocurrencies on the go!