Bitstamp welcomes Bernice Smith as Chief People Officer to drive team growth aspirations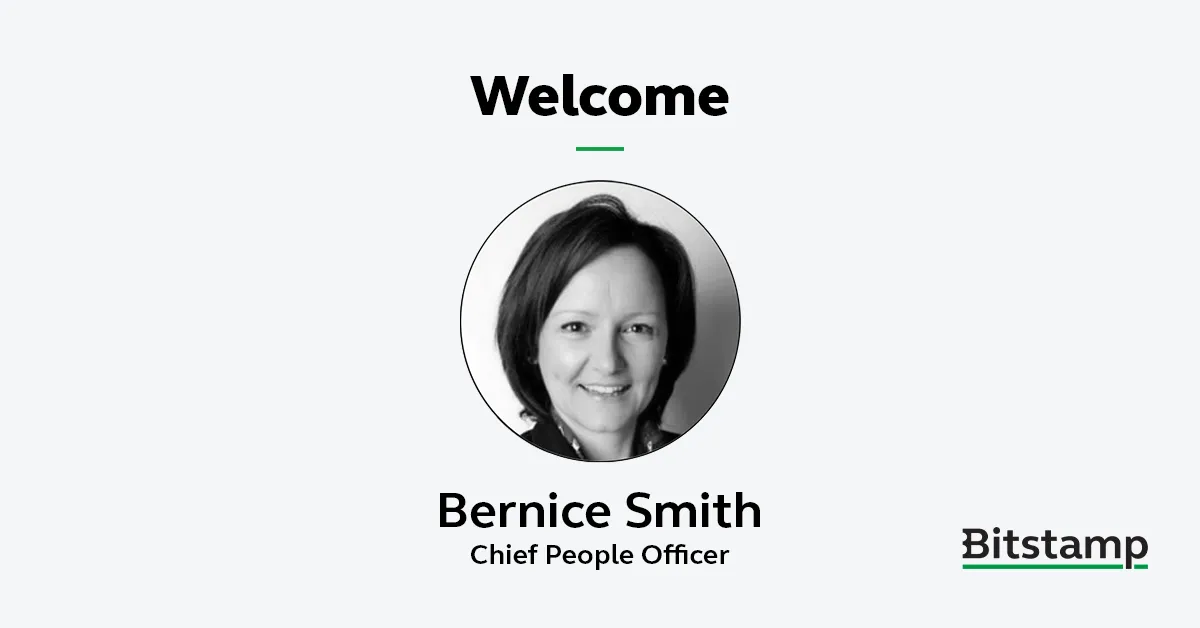 We're excited to announce Bitstamp has appointed Bernice Smith as the Chief People Officer – a move which reaffirms our commitment to bringing on board high-quality talent to support the growth of its global team.
As we continue our growth trajectory, Bernice will be responsible for ensuring our employees are best positioned to respond to opportunities and changes within our industry. Bernice will lead on developing the people, culture & engagement agenda at Bitstamp, leading a diverse talent acquisition strategy as we focus on a new decade of growth and recruiting the best talent to achieve this.  

Bernice brings over two decades of experience in supporting global and high growth technology organisations. Prior to joining Bitstamp, Bernice was the Chief People & Administration Officer at Huma Therapeutics Ltd, Europe's fastest growing healthcare company (as recognised by the Financial Times). Bernice has also held a diverse number of roles in the financial and investment industries, such as the Chief People & Administration Officer, Clearbank Ltd; Global Head of Human Resources, Barclays' Technology; & Global Head of Human Resources, Nomura Equities.  

Today's announcement is the latest in a series of high-profile female executives joining Bitstamp including Mel Tsiaprazis as Chief Commercial Officer, and Barbara Daliri Freyduni as Chief Growth Officer. Bitstamp's belief in the strength of a diverse team is at the heart of our success, and we are excited to be welcoming diverse experiences and individuals into our team.
Julian Sawyer, CEO, Bitstamp said: "Bernice as Chief People Officer has been hired into this new role to develop our existing talent and to lead the global recruitment activity as we grow. Our ambition plans demand us to have the very best team in crypto industry, our 24/7 customer contact team ensures customers can speak to our teams - human to human requires us to think differently. Bernice's experience at ClearBank, Huma and Barclays aligns with our aspirations to remain most customer friendly crypto exchange."
"The values and culture around integrity at Bitstamp are well established. They are exemplified by an innovative team who have driven the success of Bitstamp and believe in the value crypto will bring to the broader community. I am excited to join this agenda and to support the ongoing development of innovation and development within the group" added Bernice Smith, Chief People Officer, Bitstamp.
Bitstamp is dedicated to providing best-in-class service to retail and institutional digital asset investors. As the world's longest-running crypto exchange we have built a reputation as one of the most trustworthy and reliable platforms, with the best uptime in its industry, and have consistently ranked in the top 10 spot markets, in terms of volume, for almost a decade. Over the last year, we've listed 22 new assets and added over 70 trading pairs and added a range of new services, the latest being Bitstamp Earn.