ApeCoin (APE) and Maple (MPL) launch on Bitstamp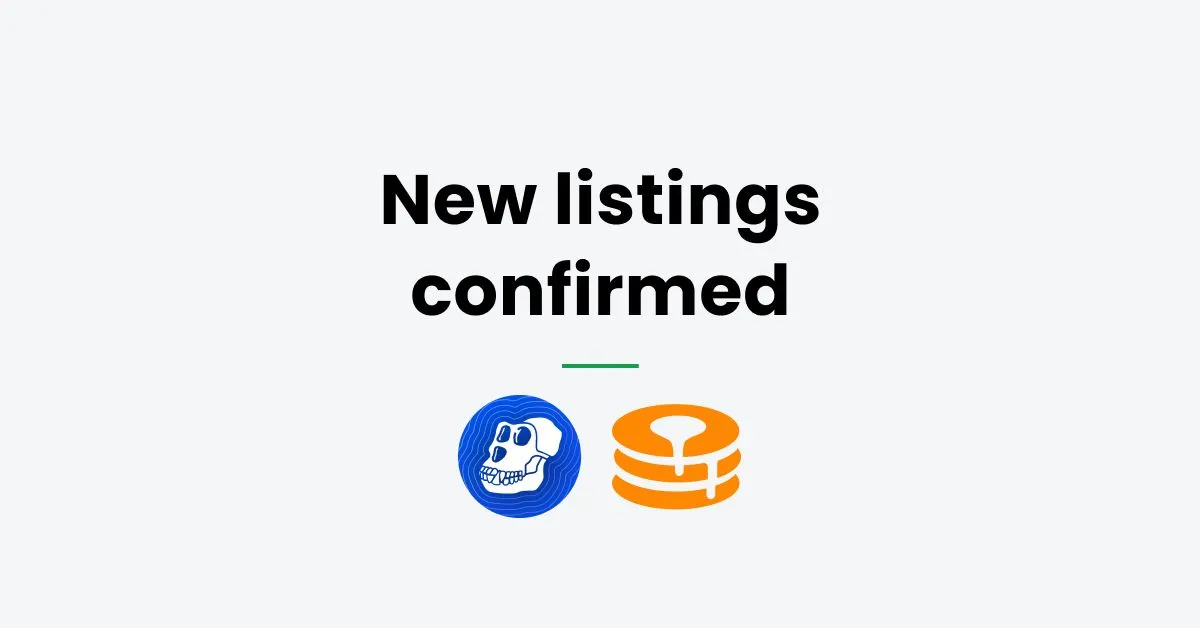 APE, the token powering Bored Ape Yacht Club, and MPL have arrived!
We're listing the following ERC-20 tokens globally (excluding the U.S. and Singapore):
APE – The token powering the Bored Ape Yacht Club ecosystem and the native token of the APE Ecosystem, which serves as a decentralized protocol layer for community-led initiatives that drive the culture of web3.
MPL – The token behind Maple, a crypto lending platform which provides uncollateralized loans for institutional borrowers and rewards for institutional and individual lenders.
---
Token listing schedule: *
1. Transfer-only mode:
APE, MPL: Monday, June 13
Deposits and withdrawals open but trading is not enabled yet.  
2. Post-only mode:
APE, MPL: Tuesday, June 14, at 7:00 AM UTC
You will be able to place and cancel limit orders, but they will not be matched. Therefore, no orders will be completed during this stage. 
3. Limit-only mode: 
APE, MPL: Tuesday, June 14, at 11:00 AM UTC 
Limit orders will be matched.

4. Full trading:
Once the order books gather sufficient liquidity, we will enable all order types and card purchases for the new trading pairs as well.
Follow us on Twitter for real-time updates on the rollout of the new trading pairs.
---
Here are the new trading pairs added on Bitstamp:
APE/EUR
APE/USD
MPL/EUR
MPL/USD
Here's a rundown of the newly added cryptocurrencies:
ApeCoin (APE)
APE is an ERC-20 token that powers the APE Ecosystem and was inspired by Yuga Labs' Bored Ape Yacht Club, the famous NFT project consisting of 10,000 ape illustrations on the Ethereum blockchain. It's also a governance token which allows its holders to participate in decision making in ApeCoin DAO. The token is used within the APE Ecosystem to empower a decentralized community on the forefront of web3 in the fields of art, gaming, entertainment, and events. Its intended use is to access games, merchandise, and various services with holders gaining exclusive access to certain parts of the ecosystem.
The goal of APE is to support new developments in regard to blockchain's impact on culture underpinned by web3 technology. The creators designed it as a decentralized protocol layer for community-led initiatives. The founders' idea stemmed from the endless possibilities for blockchain's influence on the cultural aspects of society which can't possibly all be predicted yet.
APE's total supply is permanently fixed at 1 billion tokens, all minted at once.
Click here to buy Apecoin with euro APE/EUR
Click here to buy Apecoin with dollar APE/USD
Click here for the official website of Apecoin (APE).
Maple (MPL)
MPL is the token powering Maple, a decentralized corporate crypto-capital network built on Ethereum and Solana. The platform wants to redefine capital markets through cryptocurrencies by offering borrowers and lenders efficient and transparent financing entirely on the blockchain. Maple is on a mission to expand the digital economy by providing uncollateralized lending to institutional borrowers and income opportunities to private lenders. Their protocol uses smart contracts to remove time and cost frictions, and blockchains for immutability. The result is a decentralized and secure venue for institutions and private investors alike.
Click here to buy Maple with euro MPL/EUR
Click here to buy Maple with dollar MPL/USD
Click here for the official website of Maple (MPL).
Log in to your Bitstamp account to start trading and get the Bitstamp mobile app to trade all our cryptocurrencies on the go!
*The listing schedule times might be subject to change.